In a world that often embraces the new and discards the old, there's something uniquely satisfying about repurposing forgotten treasures. And when it comes to repurposing, few items offer as much potential as old windows. These often-overlooked relics possess a timeless charm that can add character and style to any space, while simultaneously reducing waste and promoting sustainability.
Repurposing old windows goes beyond mere recycling; it's an art form that allows you to breathe new life into these vintage gems, transforming them into stunning and functional pieces. Whether you have a penchant for rustic farmhouse aesthetics or prefer a sleek modern touch, the versatility of old windows knows no bounds. From decorative accents to practical furniture, the possibilities are endless.
We invite you to embark on a journey of inspiration and creativity as we explore sensational repurposing projects for old windows. Whether you're a seasoned DIY enthusiast or a beginner seeking a new project, you will see a treasure trove of ideas to unleash your inner artist and transform those dusty windows into something truly remarkable.  We'll showcase examples from creative individuals who have embraced the art of window repurposing, offering insights, tips, and tricks that will empower you to embark on your own DIY adventure. We'll guide you through the necessary tools, techniques, and materials needed, ensuring that you feel confident and ready to transform your old windows into stunning pieces of functional art.
Discover how you can transform a single window pane into a unique picture frame, casting a spotlight on cherished memories. Or perhaps you'd like to explore the world of green-thumb magic by turning an old window into a captivating indoor herb garden, bringing nature's beauty into your home. And for those seeking a touch of whimsy, we'll unveil imaginative ways to repurpose multiple windows into enchanting room dividers or eye-catching decorative installations.
So, dust off those neglected windows, roll up your sleeves, and get ready to embark on a repurposing journey like no other. Let your imagination run wild as you explore the vast potential of these forgotten relics, breathing new life into them while adding a touch of uniqueness and sustainability to your living space.  Together, we will create an unforgettable fusion of creativity, history, and environmental consciousness, proving that true beauty can be found in unexpected places….. Let's go!
Super easy way to add some charm to your living or dining room, without a lot of headache or hassle.  If your home has a farmhouse feel, this would work beautifully.
This chalkboard window is such a cute project.  It can be functional for your kitchen or just decoration for your bathroom or playroom.  No matter how you hang it, it's bound to be a conversation piece.
Super easy project to give your space a ton of character is this window turned mirror.  Her window didn't have all the panes, so it gave her room a different look.  However any kind of window would work and it can be mounted anywhere… dining room, bathroom or bedroom, you choose based on the window and your design style.
Keep all your activities for the week organized with the fun, dry-erase calendar.  This example uses Monday through Friday, however; depending on the style window you choose, you might even have each pane be per month or even per family member.  The beauty is, you can create it in a way that works best for your family.  Adding the hooks on the bottom, make it multi-purpose, offering a reason to hang it in a mudroom or kid's bedroom.

What a clever idea to showcase your family photos. This project would really work with any kind of window, but this vertical style really makes a statement.
This is probably the easiest and least expensive project we're showcasing.  Make a statement with this framed monogram.  Have a new baby?  Make one for their room. Want to add interest to your living space?  Make one to hang over the fireplace.  You could even make it with a welcome message and hang on your front door.
Entertaining just got a bit more interesting with the custom tray made from a spare window or framed glass.  All you need is paint and a little painter's tape.  Choose a design and colors that match your design style.  This tutorial is specifically for the chevron pattern.  Although, you could create a different pattern altogether or even use a stencil.  Be the talk of the party when you use your custom tray.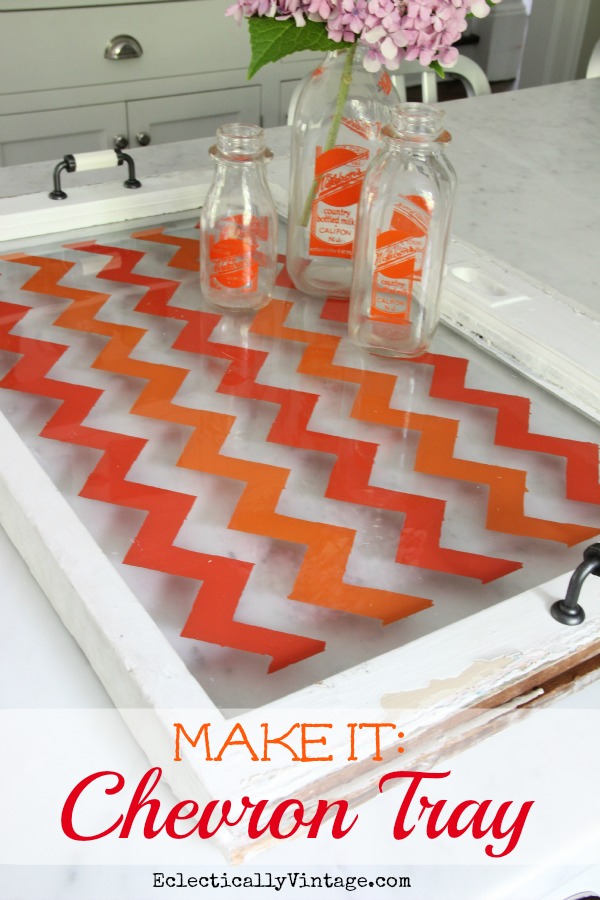 Hopefully, you have found a project or two that you want to try.  These are all easy and require just a few materials.  One of the great things is you can use the windows right out of your house, as you replace them.  Of course, these aren't the only window projects, these are just some of our favorites.
If you try any of the above projects, we would love to hear about them.  Comment below to share your wins and challenges.
When you are ready to begin your project and need to use your old windows, give us a call at 817-279-1066.  Granbury Door and Window will be happy to give you an estimate for brand new windows.  Give your home the facelift it deserves!