Commercial Hydraulic Door Closers
Hydraulic Door Closers come in different finishes, sizes, and industry standards. Heavy duty closers are made to handle the use encountered in a busy office or warehouse space. You may choose from concealed mounting or surface mounting. Most come with a lifetime warranty and meet or exceed recommended safety standards.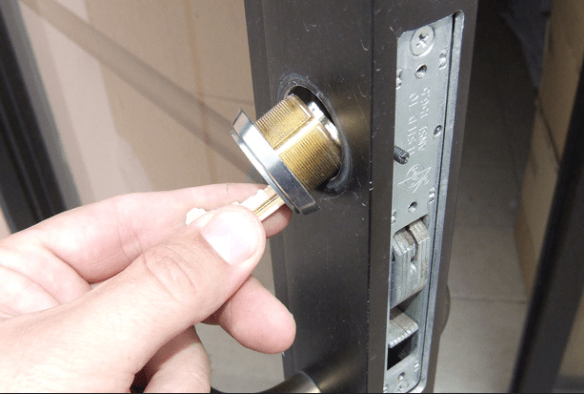 Cylinders – Rim, Mortise, Interchangeable Core and High Security Systems
We install several types of cylinders to meet our commercial customer's needs. We can replace many cylinders and rekey cylinders that are in good working order.
We install many types of Locksets with several variations of keyways to meet your needs.   These can be your typical door knob or a lever that complies with current ADA standards. They come in different finishes to meet your business decor.  If it's high security you want, no problem. We can install a lockset that is virtually indestructible and unpickable.
Electronic locksets offer convenience and safety for those who want to use a code to access their buildings. These can be programmed with different codes for managers and other users. Some provide an audit trail for businesses that want to track who and when someone enters the premises. There are many variations that are stand alone and do not require wiring.
We offer several commercial grade exit devices including panic grade and fire grade devices.  Many rail assemblies are manufactured with a heavy duty extruded aluminum body, stainless steel push pad and end caps made of brass, bronze or stainless steel. The rim and vertical rod devices are non-handed and easily reversible.  Architectural plated finishes are available.
Do you need heavy duty hinges for your standard weight door to handle a high volume of service? Or are you looking for hinges for a standard weight door with low frequency of service? We offer full mortise ball bearing hinges, full mortise plain bearing hinges, full mortise wide throw hinges and other options to meet your needs.
Double doors are a great place to use a flush bolt because they allow the doors to remain open during business hours and provide a secured close when the business is closed. Double doors benefit from the security a flush bolt provides since they provide an extra layer of security against a forced entry. They also allow both doors to be open, should a need arise when large objects are passed through them or heavy traffic flow is necessary.
Do you need a sturdy deadbolt that meets ADA standards? We offer several choices of deadbolts with extra strength to keep your business secure, as well as lighter options for light commercial and residential applications. Below are several options for you to choose from:
Single Cylinder – Keyed outside and thumb turn inside
Double Cylinder – Keyed both outside and inside
Turnbolts -Thumb turn inside
Keypad Entry
Free No-Hassle Estimates Over the Phone*
*Many residential window replacement quotes can be done over the phone. Some jobs may require an in-person inspection